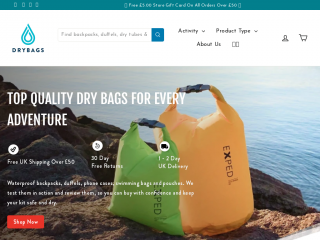 We've cherry picked the best drybag products from some of our favourite brands to sell on this site. So, whether you're looking for a waterproof bum bag (which is making a strong return), or a waterproof phone bag, we'll have a dry bag that suits your needs.

We have curated to bags by both Activity and Product type so it's easy to search for exactly what need or see our recommendations for each pursuit. So, if you're wild swimming or heading off bike-packing, we have exactly the kit you need.

TV and film production crews regularly use our Next Day Delivery service to get last minute waterproof camera bags for shoots in far flung corners of the world where they have to ensure their camera kit stays dry and dust free.