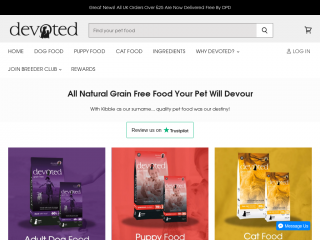 At Devoted we love animals, especially cats and dogs, and we want all pets everywhere to be healthy and happy. So we have worked with the UK's leading pet nutritionists to create balanced, hypoallergenic, easily digestible and delicious dinners for your precious pooches and kitties.

Devoted pet food is basically love from the inside out. We use only the finest ingredients, including freshly prepared meats, to offer balanced, nutritionally complete food for your pets.

Free from wheat, gluten, soya or dairy and with no added artificial colours, flavours or preservatives, ever, our cat and dog food works in harmony with your pets' natural digestive, energy and dietary needs.

Our foods are also hypoallergenic and suitable even for cats and dogs with sensitive digestions.

We know that providing pets with the right diet from the very beginning is the key to their well-being and that is why we have created the best possible food for cats, dogs and puppies, using only the finest and most biologically appropriate ingredients.

Feed your pets Devoted and watch them thrive.