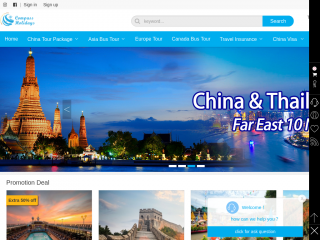 COMPASS HOLIDAYS is the trade name of Tian Bao Travel in the main stream market.

Established in 1992 from a solo retail agency in a Canadian ethnic market, Compass Holidays and its parent company – Tian Bao Travel have grown dramatically over the years into a premiere wholesaler of airline tickets and tour packages.
Compass Holidays / Tian Bao Travel have provided travel services to numerous travel agencies and more than 100,000 travelers each year across North America, Asia, Europe. Our sales volume has exceeded more than $1 billion every year since 2015.

At Compass Holidays, we believe that every traveler has unique needs, objectives and expectations for their travel plan.

We have experiences and resources to design and implement a customized trip only catering to your client's needs. Your clients will be able to experience the captivating culture, history, and languages with our unique products for each destination. We have a team of professional specialists with various backgrounds and extensive experience in the travel industry providing Compass Holidays with the necessary skill levels as a one-stop shop for all your travel needs – we've been there and done it!

Compass Holidays is privately owned, financially stable and innovative with a history of personalized services, effectively proven cost-containment programs and fully established international and national representation. The company was appointed as the exclusive agency in Canada for the 2010 World Expo in Shanghai. In return, we sold 120,000 tickets through our network and set the record of the largest group to the China Pavilion in one day. We were much honoured to be appointed again as the exclusive sales agency in Canada for the 2011 International Horticultural Expo in Xi'an, China.

At Compass Holidays we remain committed to doing everything possible to create lasting memories. From itineraries which reflect your interests, budget and time to carefully selected and knowledgeable guides, means of transportation and handpicked comfortable accommodations we strive to give you value for your money. Nor have we overlooked your desire to sample and enjoy the artistic and culinary delights of cultures beyond your own.