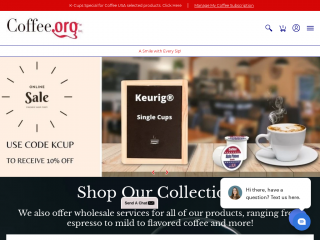 Coffee is so much fun! We are a family-owned and operated coffee business shipping all kinds of coffee and coffee beans. From the finest Miss Ellie's gourmet coffee and coffee pods to single cups and teas. There are many varieties of coffees, flavored coffees, coffee beans and teas to fit everyone's taste. Miss Ellie's coffee and coffee cakes are the best.

We are dedicated to the highest level of customer service and satisfaction. Our coffee company is built on old-fashioned business principals such as honesty, consideration, and hard work. We also utilize the best of modern technology to make sure that our customers receive fast and efficient service, the best coffee makers and coffee machines as well as great tasting coffee and coffee beans available anywhere on the market. We are proud to say that almost all of our customers return to do business with us, and we believe this is because we offer a wide selection, competitive prices, and the best customer service on the Internet

Coffee.org is owned and operated by the McClure Family. With our talented team, we have evolved into the leading online wholesale distributor of products ranging from coffee, teas, supplies, gourmet cakes, and chocolates. We also provide lovingly prepared gift baskets which are perfect for birthday gifts or other special events, and we ship them carefully right to your front door.