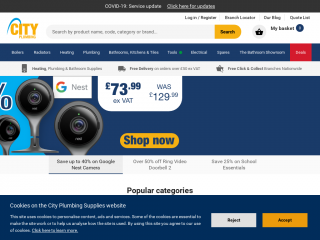 Travis Perkins plc have announced that they intend to sell the Plumbing & Heating businesses (P&H) to H.I.G Capital, an american equity investment firm.

Our Plumbing and Heating businesses are already leaders of their markets, a position founded on the expertise of our teams and the strength of being a national, specialist distributor of plumbing, heating, bathroom and electrical products. H.I.G has seen that we have a great business with amazing colleagues and loyal customers. Crucially - H.I.G recognises that there are many opportunities to develop our business throughout the UK and Ireland and they can provide the investment to help us achieve that growth.

H.I.G. shares our plans and our vision to grow our business. They are incredibly enthusiastic about P&H and what we are planning to do. They are fully committed to help us achieve our growth plans through capital investment and strategic support.

We look forward to working with the H.I.G team to accelerate our strategy to be simpler, easier and more convenient for our customers and to grow in our branch and distribution networks whilst driving forward with our digitalisation plans.

Apart from the change of ownership it's still very much business as usual and our team is ready to help you and to serve your needs as normal.