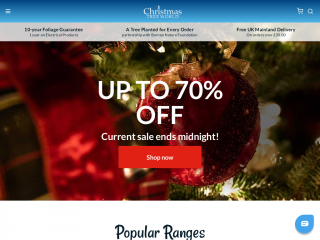 We've been in business for 30 years and, over this time, have been consistently improving on our customer satisfaction. Super speedy delivery and top quality items are what we're best at, and we're only getting better with time! In a vast range of sizes, shapes, colours and prices, it's easy to find the best artificial Christmas tree that suits you and your home.

Because we design our own artificial Christmas trees, each one is unique to us, which means we can design them to be as realistic as possible. In fact, our artificial Christmas trees look so real, customers often tell us how their friends and family are left completely fooled.

We only use the best materials to make our artificial Christmas trees, which means they can withstand the strain of being packed and unpacked for up to 15 Christmases. We're so confident in the quality of our artificial Christmas trees, we offer a full, no quibble 10-year guarantee on trees and a 1 year guarantee on electrical products. So, should any part of your tree fail within the first 10 years of purchase, we'll replace the part free of charge.