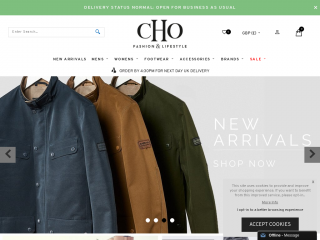 CHO Fashion & Lifestyle is an award-winning, independent designer clothing retailer with a passion for beautiful brands and professional service.

Home to some of the biggest names in fashion, CHO brings you the latest styles from the likes of Hunter, Barbour International, Belstaff and Parajumpers, and that's barely scratching the surface of our collection. Here you'll find all the best quality women's fashion styles and accessories from dresses and shoes to scarves and bags, and our men's designer clothing range features a selection of the most popular men's labels including Hugo Boss & Tommy Hilfiger.

With a passion for all things lifestyle, not just clothing, CHO also offers a range of stunning homeware, accessories and gifts to help you fill your home with designer personality and timeless country style.