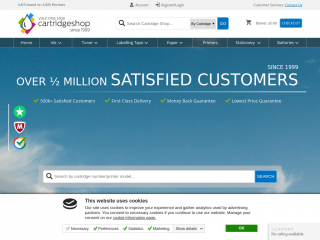 Cartridge Shop is your one stop shop for printer ink and toner cartridges.

A reputable retailer of high quality consumables whether they are original products or remanufactured compatibles, we are able to provide customers with cost savings to make your printing go further.

Placing customer care at the centre of everything we do, our customer service team are on hand to provide assistance when you're looking for your replacement ink or toner. That help and support extends to our website where you will find information on all our leading product ranges so you can make an informed decision when it comes to your home or business printing.

With business accounts available to businesses or schools, we're able to provide the flexibility to fulfil your office needs.

It's not just in the ink and toner cartridge market where we excel. As an authorised reseller of Light My Life products, customers can enjoy the cost and energy saving benefits that can be found in the LED light bulbs available.

Whether you are replenishing your ink and toner or looking for a more cost effective way to light your home, all our products are protected by our 100% satisfaction guarantee. This means that if you are not happy with a purchase made from the vast array of products available online from Cartridge Shop, you will receive a refund or replacement.

High quality goods at low cost prices and with the confidence of a 100% satisfaction guarantee, make Cartridge Shop your ink and toner cartridge retailer of choice.