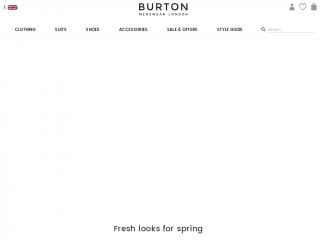 In 1903, Montague Burton was only 18 years old when he borrowed £100 from a relative to open the Cross-Tailoring Company in Chesterfield.

"Good clothes develop a man's self-respect," was one of Burton's insights. He was dedicated to providing high quality made-to-measure
suits at a reasonable price, revolutionizing the industry with his promise of "A five guinea suit for 55 shillings."

At the start of World War I, production changed from suits to uniforms which clothed nearly a quarter of the armed forces. By 1929 Burton
had four hundred shops, factories, and mills when the company went public.

Montague Burton was knighted in 1931 for his efforts in "furthering industrial relations and international peace." He was appointed Justice of the Peace, a post he held for many years.

His ambition was not only to clothe the nation and to raise the bar on the quality of life for his employees, but also to co-operate and
collaborate with those working for the advancement of culture and education worldwide. The House of Burton played a major role in
creating the United Nations Association.

In 1934, the Princess Royal Mary visited the Burton factory in Leeds where she met throngs of cheering factory girls and complimented Sir
Montague on his magnificent achievement in creating a pioneering welfare system for the workers.

On the eve of World War II, The House of Burton again turned to the production of uniforms for the troops. After the war, Burton produced a suit for war veterans nicknamed "The Full Monty".

In 1952 Sir Montague passed away. At the time of his death the company was the largest multiple tailor in the world.

In 1966 the Burton legacy lived on, suiting the England World Cup winners.

In 1999 Burton became the F.A. Official Supplier for the England squad providing suits for Euro 2000 and the World Cup 2002 teams.