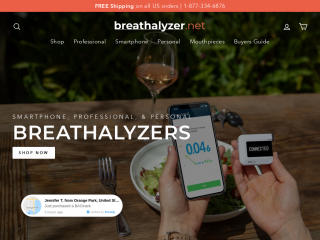 Breathalyzer.net has been satisfying customers with alcohol testing equipment since 2001. We work directly with breathalyzer manufacturers to ensure quality products and service for our customers. Unlike other companies that may sell a variety of different products, we specialize in personal and professional breath alcohol testers.

For over 14 years, Breathalyzer.net has been working closely with consumers, as well as businesses, schools, clinics, hospitals, the military, and law enforcement, to provide the most reliable devices on the market. We are here to serve the community, and to hear what YOU want from an alcohol testing solution.

Breathalyzer.net and its parent company, KHN Solutions, were the first company to ever receive U.S. Food & Drug Administration 510(k) marketing clearance to legally sell breathalyzers to consumers for personal use. In 2013, Breathalyzer.net helped to introduced the world's first smartphone breathalyzer, BACtrack Mobile. This police-grade breathalyzer went on to win Popular Science's 2013 'Best of What's New' Award for its innovation in health, and both an Edison Award and Good Design Australia Award for industrial design.