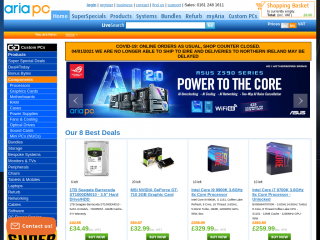 Aria.co.uk is a major supplier of PC compatible computer components and peripherals across the UK. We supply thousands of end users, students, public and private sector companies, central government offices and education providers each year with quality products and services, all at highly competitive prices.

The IT business was established in Manchester in 1993 by our current managing director, Aria Taheri. Aria was awarded an engineering degree with honours in Electronics from the University of Bath in 1991; and then worked for a period in the electronics industry before attending the University of Manchester Institute of Science & Technology (UMIST), where he gained his postgraduate MSc.

Based upon his experience in the electronics and computer world, Aria established Aria Technology with the aim of making computer products and services more accessible for individuals and businesses by ensuring quality products were sourced and distributed to the marketplace at affordable prices.

Aria acquired Velo systems Ltd in 2006 with a view of offering both components and customised systems under one entity.

Aria recently featured on the popular Channel 4 reality show The Secret Millionaire, during which he went undercover in Sparbrook in Birmingham; spent time volunteering with several charitable organisations; and eventually revealed his identity, surprising several of the charities concerned with donations. You can see the episode on 4oD, or watch a trailer on YouTube.

Aria has traded successfully for 20 years, and is now established as a go to place for IT components at market busting prices.

The team of 20 motivated staff at Aria have a vast array of knowledge and expertise within the Information Technology sector. Through our development of lean and efficient business practices, we have earned a long-standing reputation for consistently offering essential PC components at the lowest prices in the UK. As the business continues to develop, we constantly strengthen the team through in-house training and product knowledge updates as new technology is launched. The company also has a comprehensive staff development programme and the new personnel are recruited after thorough analysis to identify the skills that are of key importance to the expansion of our business activities.