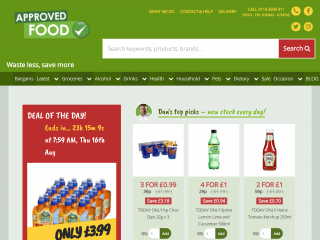 Approved Food, the UK's Best selection of clearance food & drink at discount prices.

We are the original online supermarket specialising in surplus and short dated stock, food that is either near or just past its 'best before' date, allowing us to pass on huge savings to our customers who can typically save up to 70% off their grocery shop with us.

We have close to 4000 products on our website and our range has expanded dramatically from our early days and now includes beers, wines and spirits, dietary and fitness supplements, health and beauty products and fresh meats all at discounted prices.

We ship to more than 50,000 customers throughout the UK and large parts of Europe.