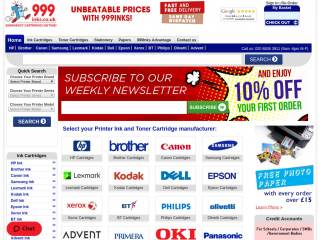 999inks.co.uk began life selling ink & toner in January 2005, with two employees: a manager, and a multitasker responsible for everything from customer services to packing and dispatching orders. Together they sold printer cartridges on Ebay out of a bedroom – and even delivered orders themselves, travelling the UK by train, orders in hand.

Today 999inks.co.uk is a brand that imports the best quality ink & toner from across Europe. Its products are ISO 9001 Certified – a standard ensuring the quality of its cartridges. It houses its own Testing Department, meaning that every cartridge passes a set of stringent tests before dispatch, and the 999inks.co.uk site is 100% secure.

Recently 999inks.co.uk began selling lifestyle products – such as TVs and DVD players – in addition to the ink & toner cartridges for which it remains best known. To coincide with its 5th birthday, 999inks.co.uk released its first TV advert.