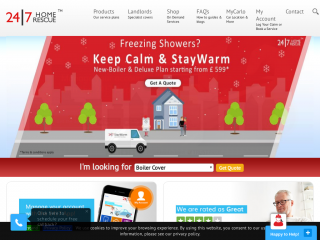 24|7 Home Rescue is a specialist, nationwide provider of boiler, appliance and home emergency cover for landlords and homeowners.


In designing our service plan we decided to become fully independent but still operate the similar underwriting model as required by the Insurance Industry.

As a service provider 24|7 Home Rescue operates as a non-insurance registered entity. This is a very important attribute in keeping our operating costs to a minimum. Traditional warranty companies usually operate on an insured basis and are either owned or contracted to an insurance company.

24|7 Home Rescue is a secure business and the owners of 24|7 Home Rescue are financially independent. The senior partners have operated within the warranty marketplace for almost 20 years. The business is operated on prudential lines utilising owner reserves of capital but importantly, without the need for shareholders, bank loans or overdrafts.